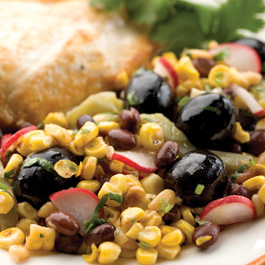 Courtesy of California Ripe Olives
Serve With:
Grilled chicken or steak

Steamed vegetables

Fresh garden salad
Servings:
4
Prep Time:
10 Min.
Cook Time:
10 Min.
* 1 Tbsp. olive oil
* 2 c. yellow corn kernels
* 2 tsp. minced garlic
* 1 c. cooked black beans (or canned)
* 1 c. California Ripe Olives, whole, pitted
* 1/2 c. sliced prepared nopalitos*
* 1/2 c. halved and sliced radishes
* 1/4 c. chopped cilantro
* 1/4 c. toasted pine nuts
* 2 Tbsp. lime juice

*Nopalitos, also known as prepared cactus paddles, can be found in Mexican markets
1. Heat oil in a large sauté pan over high heat. Turn heat down to medium-high, add corn kernels and carefully sauté for 3-4 min. until lightly browned.
2. Season to taste with salt, stir in garlic and remove from heat.
3. Transfer corn mixture to a large mixing bowl and stir in beans, California Ripe Olives, nopalitos, radishes and cilantro.
4. Toss with pine nuts and lime juice just before serving.
Calories: 232;
Calories From Fat: 70;
Total Carbs: 30g;
Protein: 8g;
Sodium: 600mg;